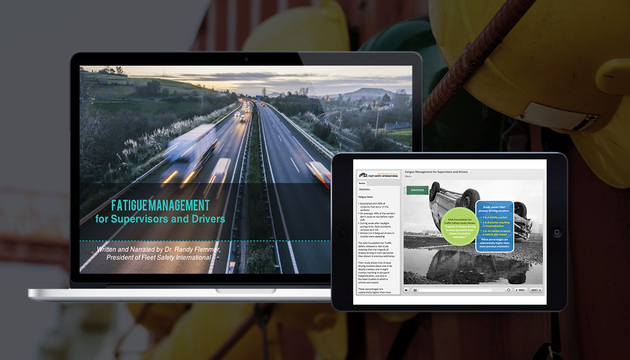 Fatigue Management for Supervisors and Drivers
Description
Participants can choose to either do the Supervisor Fatigue Program or the Driver Fatigue Program.
Employee fatigue is a major factor behind on-the-job accidents, absenteeism and lowered productivity. Tired managers and employees cost you money.
This program is specifically designed to assist drivers and organizational leaders better understand fatigue. While the major focus is driving and drivers, this is an effective fatigue informational tool for all senior managers and all drivers.
Course Outline
Understand the cost of driving drowsy
Fatigue and the Law
Defining fatigue
Understanding sleep
Recognizing fatigue

Evaluating fatigue concerns in your organization
Recognizing fatigue in employees
Questions that you can ask employees

Fatigue strategies

Strategies that work
Strategies that work minimally or short term
Strategies that do not work
Organizational strategies
Your Responsibilities
Also available in
This online training bundle for supervisors includes 11 transportation related courses.
$399.00 CAD