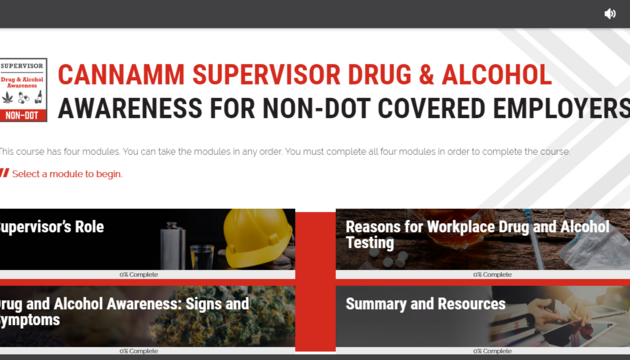 Supervisor Drug & Alcohol Awareness Course (Non-DOT)
Description
For supervisors who are not required to test by the Department of Transportation (DOT)/Federal Motor Carrier Safety Administration (FMCSA) regulations, but are required to perform workplace drug screening by their company policy.
This training course focuses on safety training for managers and supervisors who are responsible for recognizing occupational health and safety risks in the workplace, immediately intervening, investigating accidents, incidents or near misses, and requesting reasonable cause or post-accident drug and alcohol testing of employees where applicable.
After completing this non-dot reasonable suspicion training for supervisors course, the learner will have the knowledge and skills required to:
Explain how and why workplace drug and alcohol testing is performed
Describe the different types of workplace drug and alcohol testing
List the drugs that are included in workplace drug and alcohol testing
Describe the supervisor's role in workplace drug and alcohol testing that ensures a drug-free workplace
Explain and give examples of how supervisors should fulfill their role in workplace drug and alcohol testing
Explain and provide examples of how supervisors should fulfill their role in accommodating medical treatments and self-disclosed addiction
Conduct a post-accident investigation
Recognize when post-accident testing is required
Complete required documentation of post-accident testing
Explain how enabling behaviour decreases workplace safety and how to avoid it
Recognize the signs and symptoms of drug and alcohol use and abuse in the workplace to justify appropriate reasonable cause testing in safety-sensitive positions
Complete required documentation justifying reasonable cause testing
Summarize the key points of drug and alcohol testing
Additional Resources:
Course Outline
Syllabus
Supervisor's Role
Reasons for Workplace Drug and Alcohol Testing
Drug and Alcohol Awareness: Signs and Symptoms
Post Accident Testing Determinations
Reasonable Cause Testing Determinations
Summary, key takeaways, downloadable resources, and links
Also available in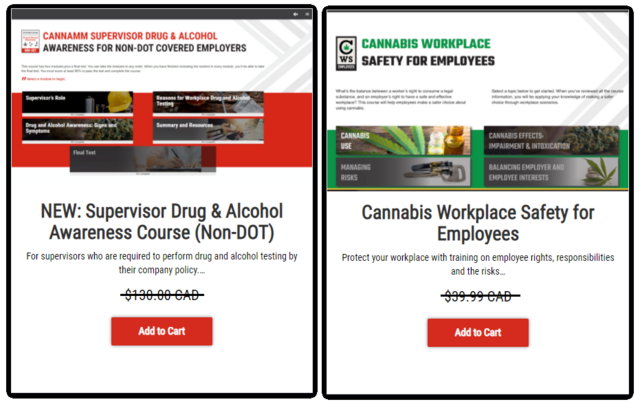 This online training bundle for employers includes two critical drug and alcohol awareness courses.
$149.95 CAD