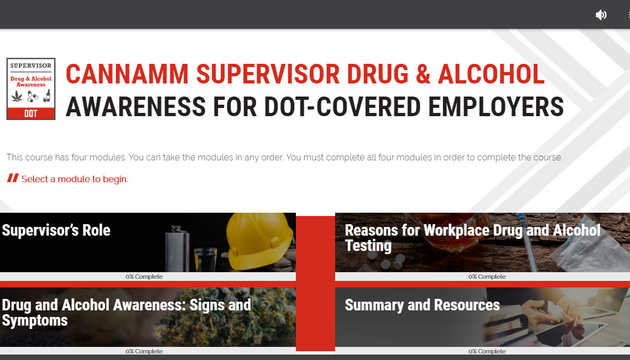 Supervisor Drug & Alcohol Awareness Training (DOT)
Description
This course is for DOT Regulated Employers Subject to the Federal Motor Carrier Safety Administration. To determine if you are regulated under the FMCSA, please click and review this
link
.
Supervisor Awareness Training is
required by regulation for DOT covered employers
and is intended for front-line supervisors that are responsible for recognizing safety risks in the workplace and requesting reasonable cause drug and alcohol testing for employees in safety-sensitive positions.
CannAmm believes that in order for companies to be successful in the administration of their drug and alcohol policy, supervisors should be trained in the industry best practices. Supervisors are responsible for recognizing when employees are not working safely, and after making observations, requesting Reasonable Cause testing of these employees. This course provides Supervisors with the knowledge to meet the requirements that enable them to effectively make and document observations as well as appropriately determine the need for Reasonable Cause testing.
This course meets and exceeds the United States Department of Transportation (DOT) Supervisor training requirements.
CannAmm is a leader in drug and alcohol training, we offer flexible training options to meet your business's unique needs. Our training programs are developed and delivered by some of the most experienced and knowledgeable people in the drug and alcohol testing field today.
After completing the DOT drug and alcohol training for supervisors course, you will be able to
Explain the different reasons for testing
List the drugs that are tested for
Explain the importance of confidentiality in the testing process
Recognize and document signs and symptoms of impairment from drug abuse and alcohol misuse
Identify when Post-Accident testing may apply to ensure that employees are fit for duty
Determine when Reasonable Cause testing for controlled substances applies
Additional Resources:
Course Outline
Syllabus
Course Designed for DOT Regulated Employers Subject to the Federal Motor Carrier Safety Administration
Supervisor's Role
Reasons for Workplace Drug and Alcohol Testing
Drug and Alcohol Awareness: Signs and Symptoms
Post Accident Testing Determinations
Reasonable Cause Testing Determinations
Summary, key takeaways, downloadable resources, and links
Also available in
This online training bundle for supervisors includes 11 transportation related courses.
$399.00 CAD